Lace Pink Wig ( ㅇㅅㅇ)
Use ichigoflavor to get a 10% off your purchase!
Hello guys!! This wig came in the mail today and I wanted to review it after the Hatsune Miku wig so it's like a wig party, you feel? ((I don't know)). Let's get onto the review before I start talking about random shiz again hohoho.
Use ichigoflavor to get a 10% off your purchase!

Lace Pink Wig:

✧ Material:100% High Temperature Fiber
✧ Length:70CM (27.56Inch)
✧ Weight:360G
✧ Color: Light Pink
✧ Style: Straight


✧ The color of the wig is very light. This is the first time I've owned a really light pastel pink wig and I was disappointed because it's super shiny. I can understand that it can be since if wigs are lighter, they tend to be more shiny than darker wigs ((imo)). But, under a light that's not that strong, it can look better. I took the photo above in front of my window. It's pretty sunny out today and plus I had my white light pointing directly at me, so I think that's why it's super shiny.
Under a white light:
Under the sunlight:
✧ It's super soft and it's not packed with a lot of hair. It's close to being natural, thickness-wise, but the only problem is that if you separate the hair too much, the lace wig cap will show through it and it looks really awkward.
Overall, I would give this a
out of 5 berries(⁎˃ᆺ˂)… It's a nice wig overall, but it was too shiny for me and the bangs part, if separated, will make you look weird because the lace cap is showing underneath the hair and it's pretty noticeable. But, I think if you do side bangs, it's better because then it would cover up the lace. I separated mine because I was cosplaying Super Sonico! I really like the thickness of this wig though, it's close to being as thick as normal hair since wigs tend to have a lot of hair on it.
Here are just some additional photos of how it came in:
Thank you for reading! Have a great day!!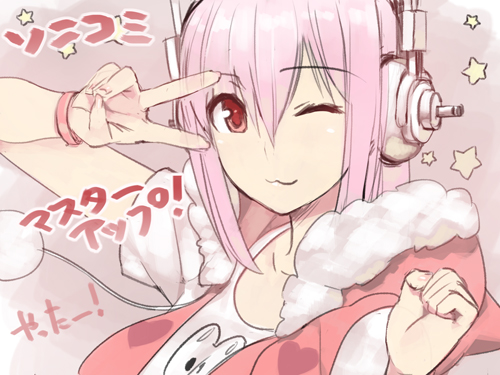 6ヶ月前 | 05:35pm
927 リアクション · Tagged: #me #super sonico #cosplay #pink wig #review #tokimo #i dont have her headphones oops lol